We encourage everyone to learn about Ontario's electoral process.
We provide educational resources about voting in Ontario to teachers, community organizations and the public. We also participate in events to promote active civic engagement
Subscribe to EO's outreach newsletter to stay informed. You'll also receive outreach kits and other materials ahead of elections and by-elections.
Find out more about the electoral process in Ontario: download educational resources, request a presentation or contact us.
Chief Electoral Officer, Greg Essensa, attended an Immigration, Refugees and Citizenship Canada ceremony to congratulate new Canadians on their eligibility to vote in Ontario provincial elections. The new citizens were provided with information about how to add their name to the voters list and what happens when you go to vote.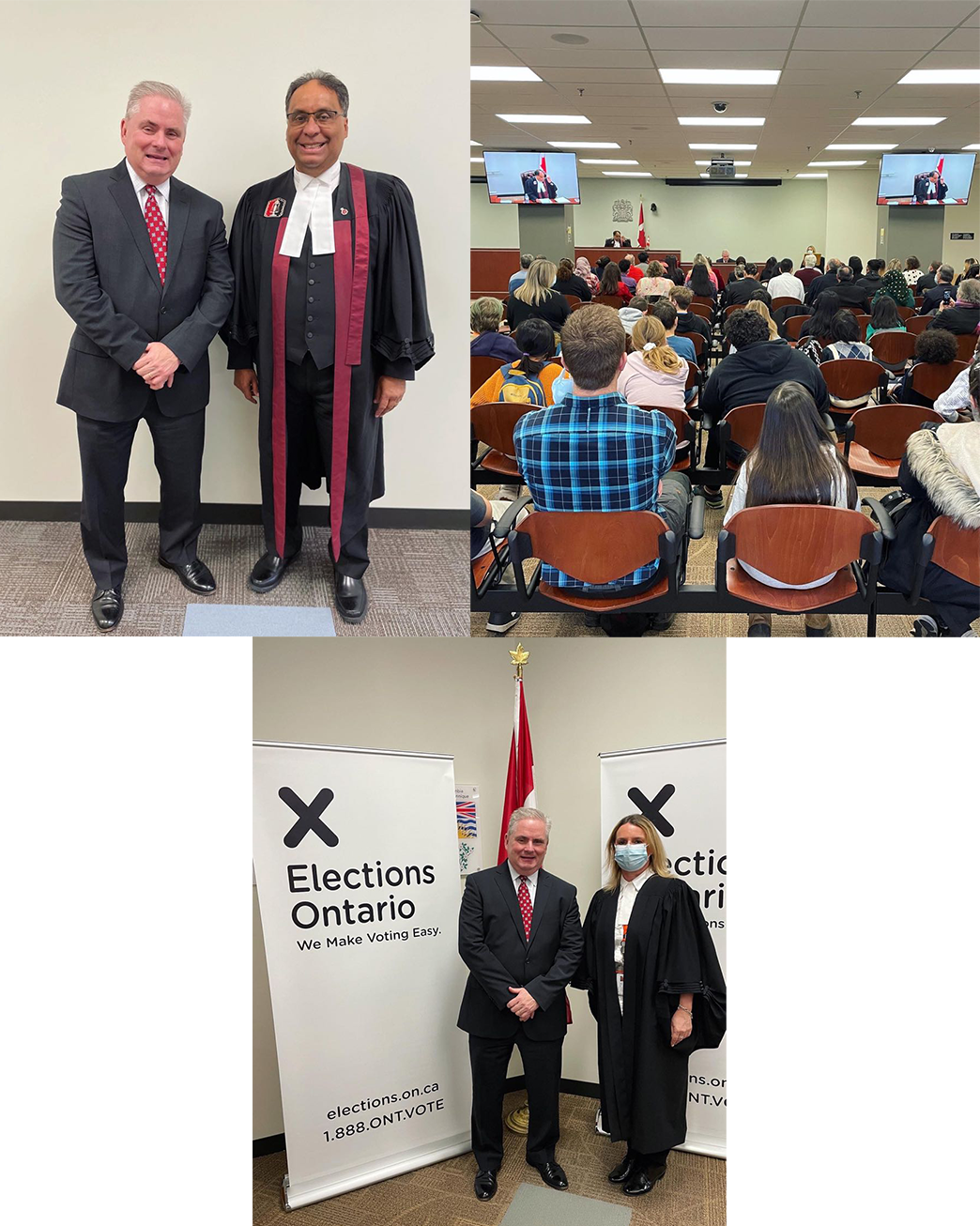 To celebrate the International Day of Democracy, Chief Electoral Officer, Greg Essensa, visited a class of Grade 10 students at Loretto Abbey Catholic Secondary School. The aim of the event was to promote civic literacy by completing one of the lessons from Elections Ontario's new Grade 10 Civics and Citizenship curriculum resource.
In September, an updated version of Elections Ontario's curriculum resources for Grade 5 Social Studies and for Grade 10 Civics and Citizenship was launched. These curriculum resources are meant for all educators to make teaching about Ontario's provincial elections easy and enjoyable for their students. The resources are available both in English and French and align with the Ontario curriculum.
Elections Ontario celebrated Toronto Newcomer Day 2021 with the City of Toronto. Toronto Newcomer Day is an annual celebration to officially welcome newcomers to Toronto and provide information for their social, political, civic, and economic participation.  
Elections Ontario hosted a virtual booth and shared information about voting and voter registration, the different levels of elections, and job opportunities during an election.
Ontario's Chief Electoral Officer (CEO), Greg Essensa, spoke at a virtual citizenship ceremony hosted by the Institute for Canadian Citizenship and Immigration, Refugees and Citizenship Canada. The ceremony welcomed 54 new citizens from 17 countries to Canada. The CEO congratulated everyone on the significant milestone and encouraged democratic participation by voting, working in an election or running as a candidate!
As part of this year's Provincial Voter Registration Month, Elections Ontario invited schools across the province to run virtual registration drives for future voters.
Congratulations to students from the following participating schools:
Bishop Alexander Carter Catholic Secondary School

Bishop Macdonell Catholic High School 

Bur Oak Secondary School

Earl Haig Secondary School

Marymount Academy

St. Benedict Catholic Secondary School 

St. Charles College

Woodbridge College
We can't wait to see you at the polls!
Didn't get a chance to participate? You can still register! 
If you are 16 or 17 years old, a Canadian citizen and a resident of Ontario, you can add your name to the Ontario Register of Future Voters! 
Registering means you will automatically be added to the voters list on your 18th birthday. You will also receive information in the mail from us about when, where and how to vote once an election is called. 
This March, Elections Ontario joined Elections Canada and Amplify Ryerson at a virtual forum about building democratic engagement on campuses, post-secondary student voting options, and election readiness. 
Elections Ontario met with agencies and individuals representing people with disabilities to continue our commitment to removing barriers for voters.

Previous consultations have provided guidance on the introduction of technology in the polls and the development of eRegistration. 
We hosted a virtual booth at the OHASSTA conference on October 23 to share information about our educational resources with teachers, consultants, and other educational stakeholders. 
To celebrate the International Day of Democracy on September 15, Elections Ontario participated in the virtual launch of Ryerson University's Canadian Vote Summit.
The online event featured Greg Essensa, Chief Electoral Officer of Ontario reflecting on the 100-year anniversary of Elections Ontario, the future of elections in challenging times, and electoral modernization and innovation.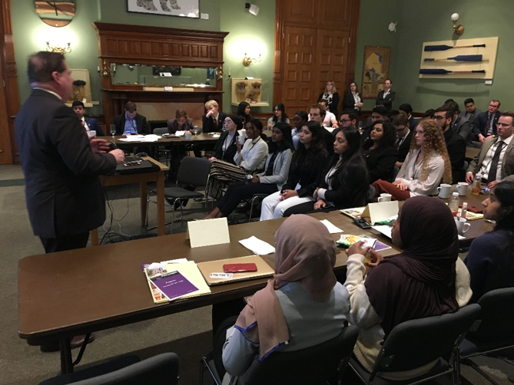 On January 30, the Chief Electoral Officer of Ontario, Greg Essensa, attended the post-secondary model parliament hosted at the Ontario Legislative Assembly, where he had the chance to speak with youth from post-secondary institutions from across the province about the work of Elections Ontario.
The three-day program offers post-secondary students the opportunity to learn about the inner workings of the legislative process through workshops and meeting with key figures in Ontario's parliament. More information about the program can be found on the Ontario Legislative Assembly's website.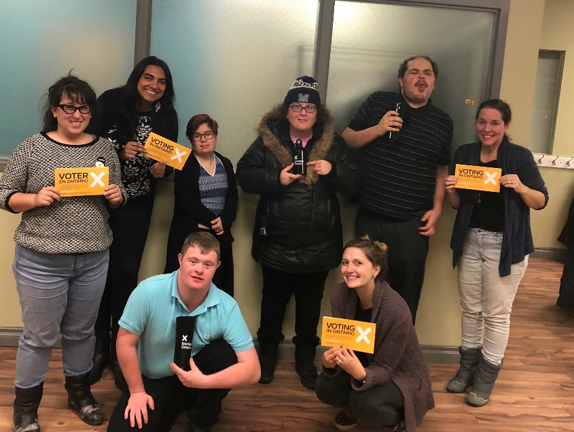 Elections Ontario's visited the Miles Nadal Jewish Community Center (MNJCC) as part of their Citizenship Project. The Citizenship Project is a sixteen-week program that explores the topics of civic engagement, politics, city building and advocacy for young adults with intellectual disabilities.
For this year's International Day of Democracy, Elections Ontario partnered with the Office of the Lieutenant Governor of Ontario, the Samara Centre for Democracy, and the Canadian Vote Coalition to host Dare to Discuss, on September 12 at the Legislative Assembly of Ontario.
The event encouraged Ontarians of all ages and abilities to think about democracy as it stands today and to envision new ways of engagement for the future.
Top photo, from left: Pam Sugiman, Ryerson University Dean of Arts; The Honourable Elizabeth Dowdeswell, Lieutenant Governor of Ontario; Greg Essensa, Chief Electoral Officer of Ontario.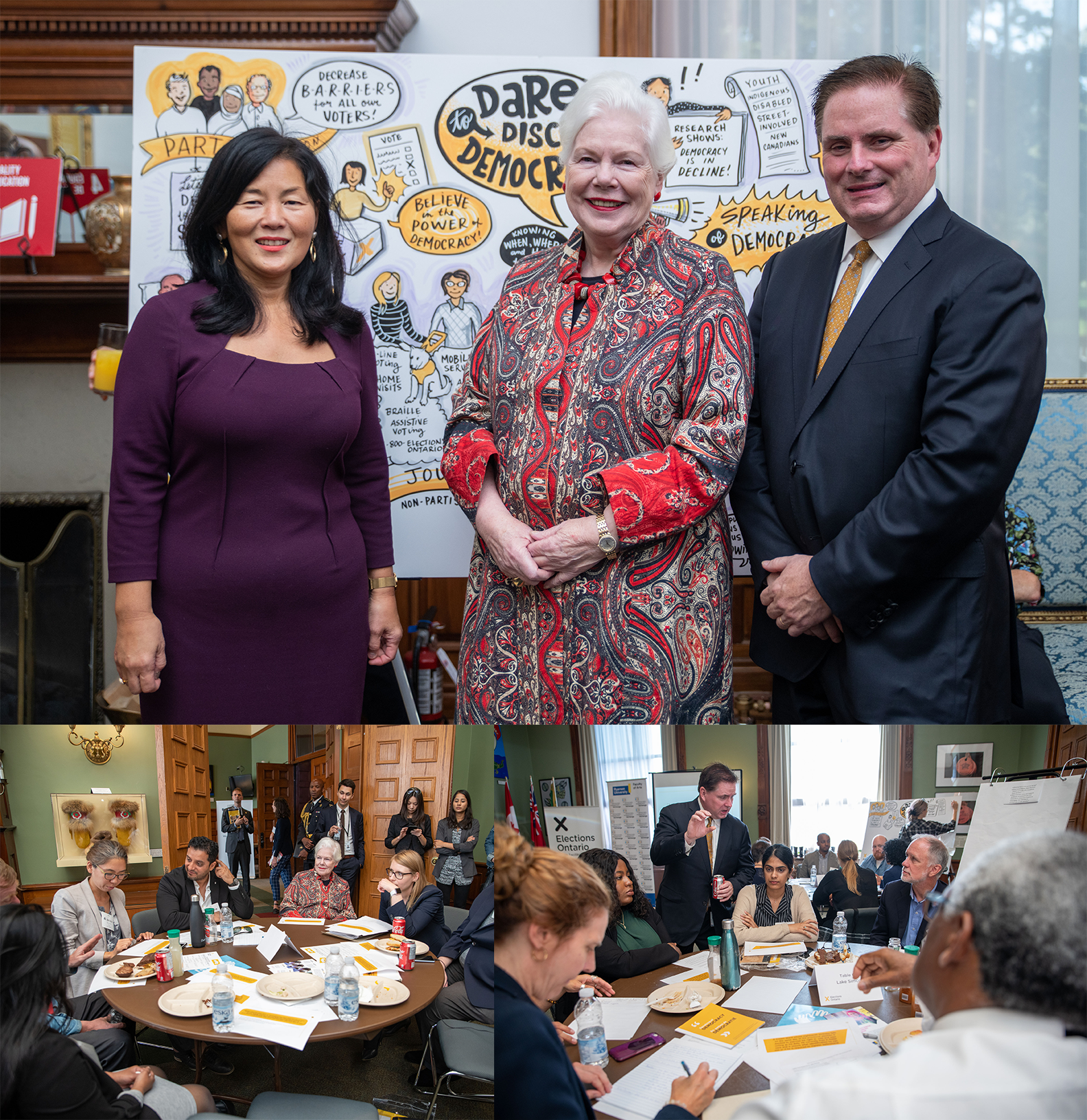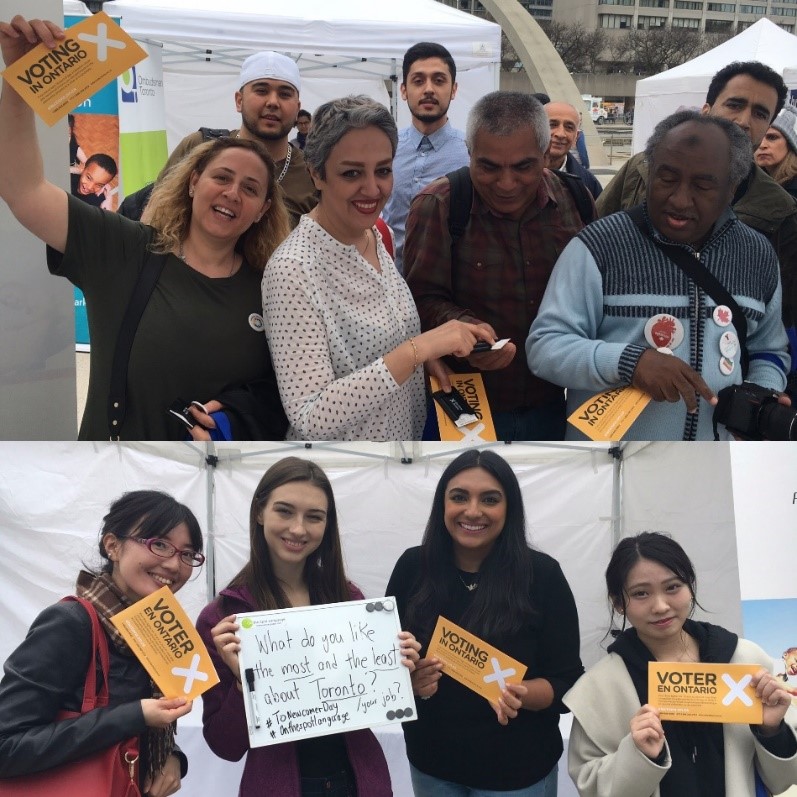 On Thursday, May 16th, Elections Ontario hosted a booth for Toronto Newcomer Day, to provide information about voting in Ontario and getting involved with elections to new Canadian citizens.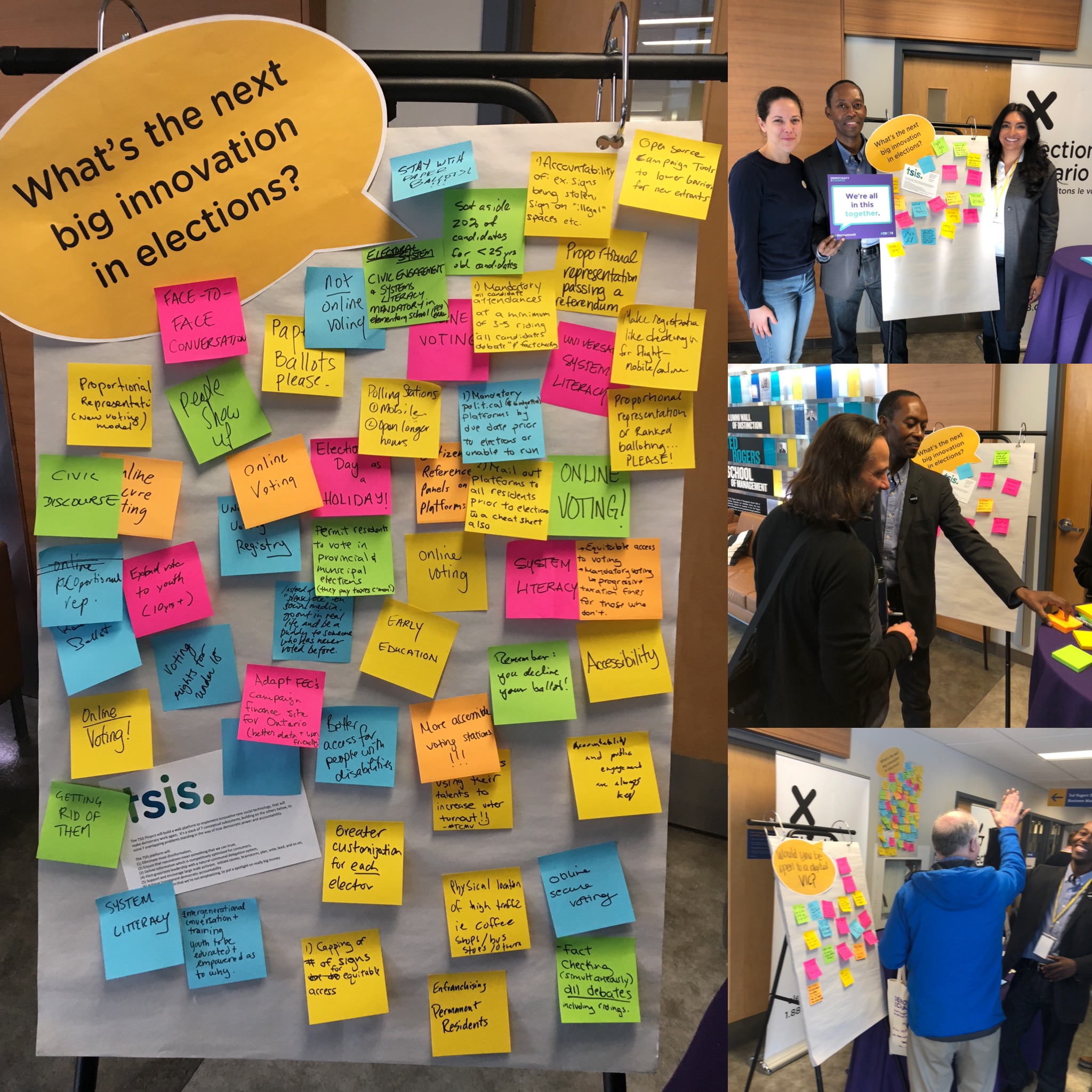 Elections Ontario hosted a booth at the annual Democracy XChange conference.
While there, we surveyed conference attendees on potential innovations to Ontario's elections public education strategies. 
We attended the annual Ontario History and Social Sciences Teacher's Association OHASSTA-AESHO conference to share our educational resources with teachers, consultants, and other educational stakeholders.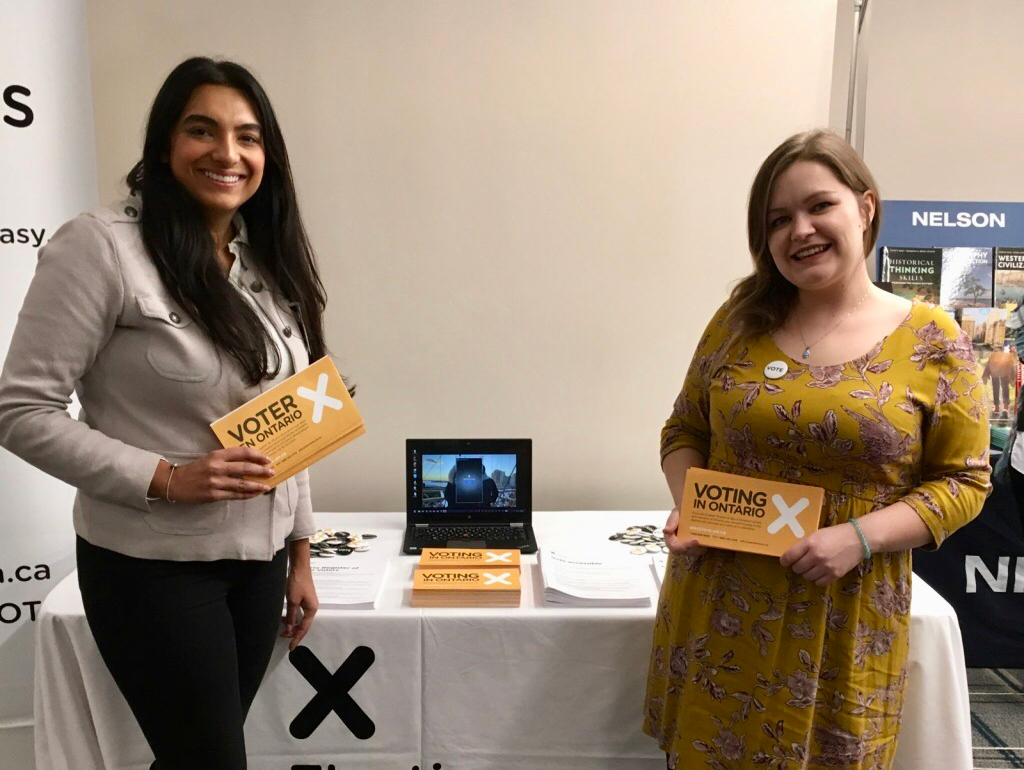 For this International Day of Democracy, we asked you why #DemocracyMatters.
We also co-hosted the "Youth Lead Democracy Awards" to recognize young democracy leaders who volunteered to promote the June 7th provincial election.
The youngest honouree was a 12 year old Aryan from the YMCA Youth Leadership Development Program. Aryan delivered the keynote speech, "You have a voice, use it!"
Elections Ontario (EO) is committed to respecting your privacy and protecting your personal information (PI) in accordance with our Privacy Policy. The PI on this form is collected under the authority of the Election Act, Election Finances Act, Employment Standards Act, 2000 and/or other legislation. 
This information will be used for electoral purposes and may be used to conduct election research. Your PI may be shared internally at EO for the purposes outlined above and will be securely destroyed one year after its last use or later, where legislatively required. Questions about the collection can be directed to: priv@elections.on.ca.