We encourage everyone to learn about the democratic process in Ontario.
Our outreach activities include providing educational resources about voting in Ontario, and participating in events to promote active civic engagement for all Ontarians.
Subscribe to our outreach newsletter to stay informed.
Find out more about the electoral process in Ontario with our educational resources, request a presentation or contact us about an event.
International Day of Democracy - September 2019
The United Nations established the International Day of Democracy on November 8, 2007. This year's theme, Participation, focused on building inclusion and supporting the right to "active, substantive and meaningful participation in democracy."
In recognition of this year's theme, Elections Ontario—in partnership with the Office of the Lieutenant Governor of Ontario, the Samara Centre for Democracy, and the Canadian Vote Coalition—hosted an event, Dare to Discuss, on September 12 at the Legislative Assembly of Ontario to encourage Ontarians of all ages and abilities to think about democracy as it stands today and to envision new ways of engagement for the future. Over 70 community leaders attended this event, where they engaged in discussion about democracy and learned about Elections Ontario's outreach and public education tools. 
If you would like to join Elections Ontario at our next event, please email outreach@elections.on.ca.  
Top photo from left: Pam Sugiman, Ryerson University Dean of Arts; The Honourable Elizabeth Dowdeswell, Lieutenant Governor of Ontario; Greg Essensa, Chief Electoral Officer of Ontario.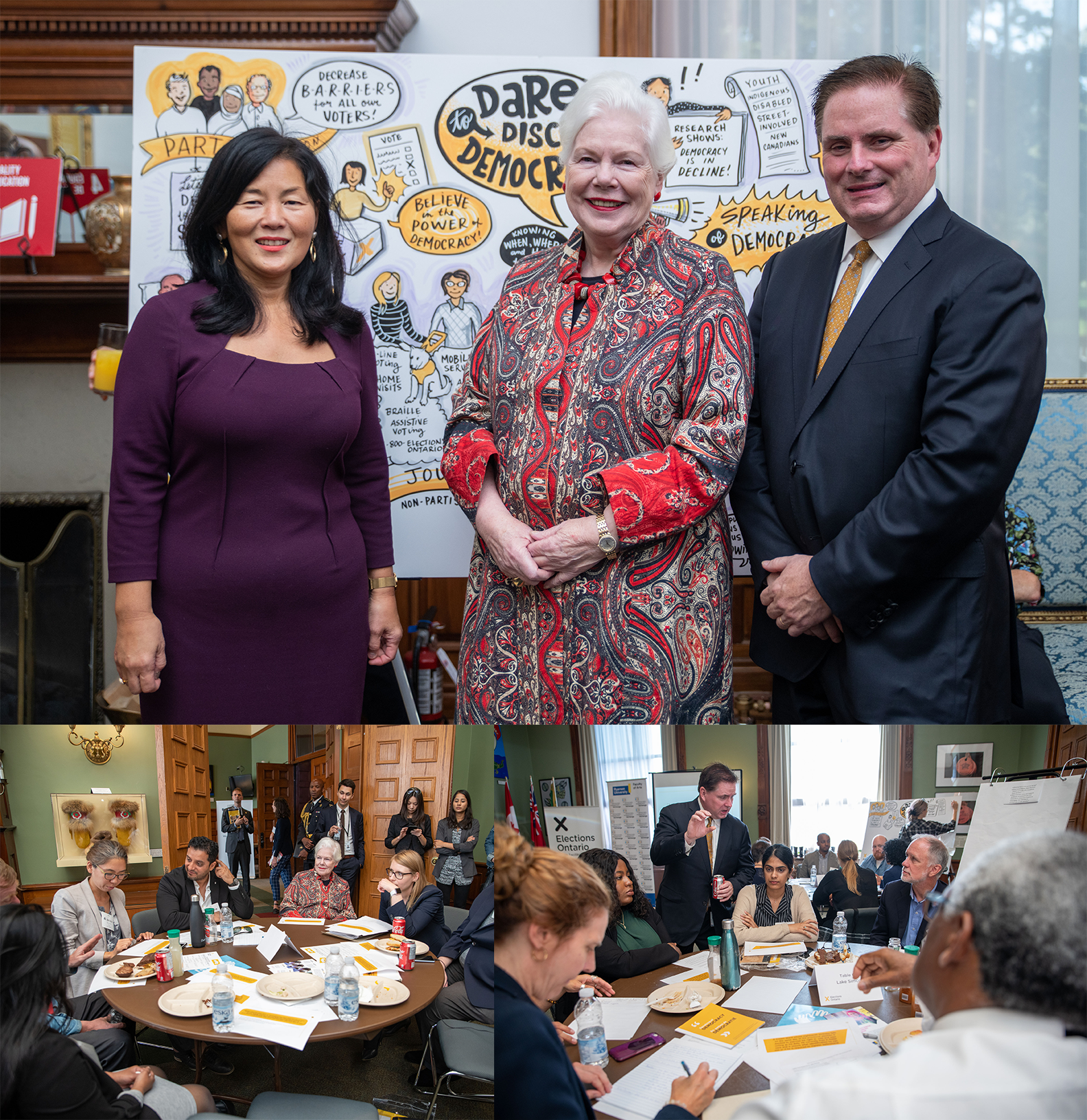 Toronto Newcomer Day - May 2019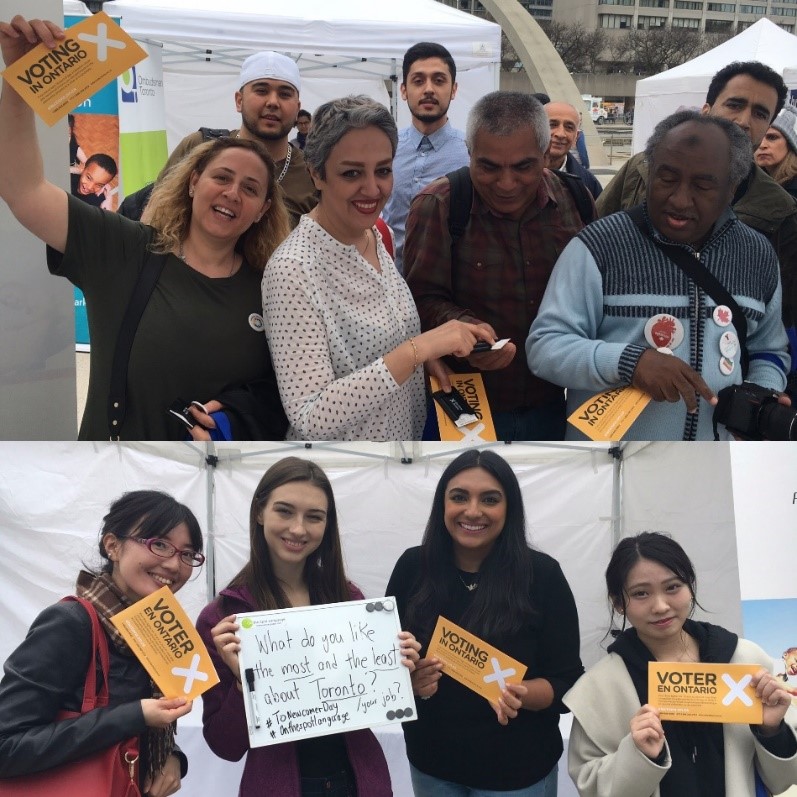 On Thursday, May 16th, Elections Ontario's Outreach team went to Nathan Phillips Square for Toronto Newcomer Day, a welcome event that showcased the diverse public service offerings for New Canadians living in the Greater Toronto Area. It was a great opportunity for Elections Ontario to introduce democracy and voting in Ontario, as well as the different opportunities available to get involved with Canadian democracy.
Ontarians that are on the path to citizenship can participate in democracy as well; through discussions with their family and friends, staying informed, working at the polls, volunteering on a campaign, or becoming advocates for democracy in their own communities.
The Outreach team also connected with community leaders who expressed interest in promoting Election Ontario's educational tools within their own organizations. With such a successful turnout, Elections Ontario looks forward to participating in next year's Newcomer Day festivities. 

On May 9th - 10th, Elections Ontario's Outreach team attended "Real Tools for Real Situations: Journey to the 2019 Federal Election," a conference hosted by Elections Canada and Ryerson University's Democratic Engagement Exchange to connect with 80+ organizations that cater to the diverse needs of Ontarians. Community leaders shared their stories about how they demystify the voting process and encourage democratic engagement, while ensuring inclusivity and accessibility.
The conference provided Elections Ontario with the opportunity to support Elections Canada as they prepare for the federal election. By practicing year-round engagement, Elections Ontario continuously works to strengthen relationships with community groups across the province, in order to make voting easier and accessible for all Ontarians. 

First Time Voter Award - January 2019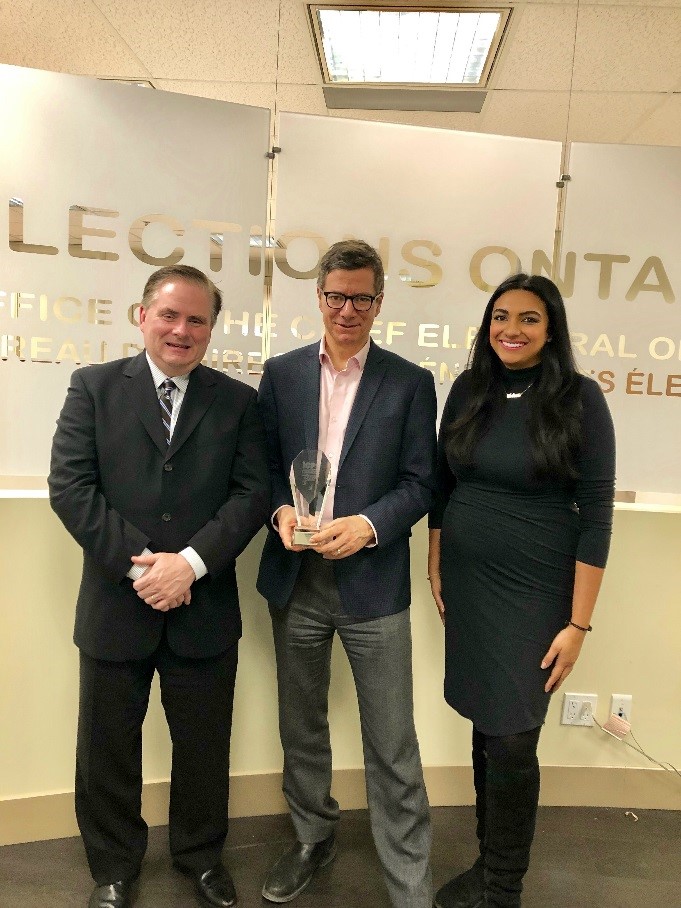 During the fall of 2018, the Outreach team submitted an application to be considered by the International Center for Parliamentary Studies (ICPS) for their First-Time Voter Award.  The ICPS is a global agency dedicated to democratic engagement and electoral excellence. Elections Ontario is pleased to report that the agency has now been awarded the First Time Voter Award in partnership with the Ryerson Democratic Engagement Exchange and the shared youth engagement work conducted with The Exchange during the 2018 general election. Elections Ontario was also awarded the Accessibility Award, the Minority Participation Award, the Electoral Ergonomy Award, and the Election Management Award.
This is an international recognition of the hard work Elections Ontario did to deliver the 2018 general election to Ontarians. 

Democracy Xchange Conference – January 2019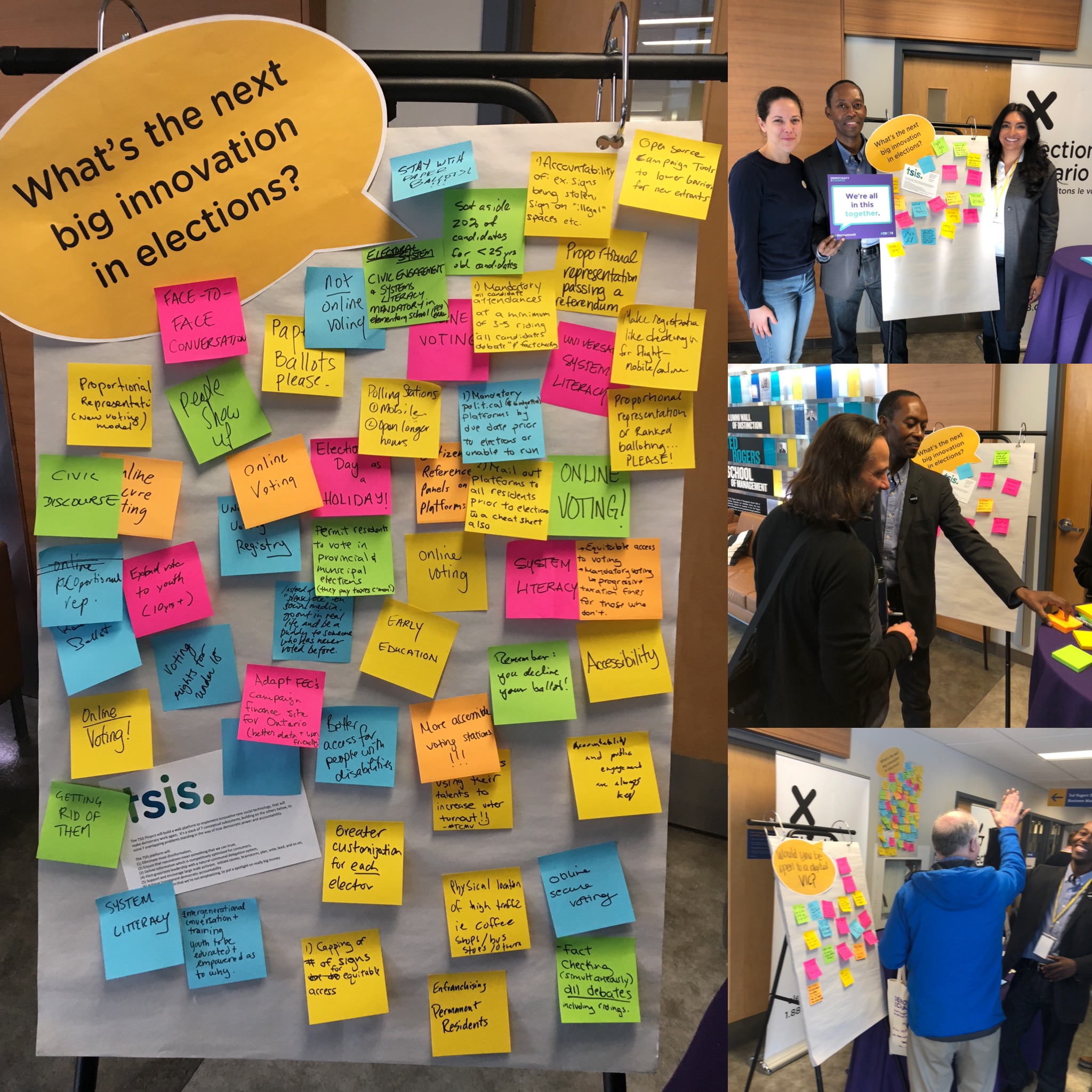 Elections Ontario recently hosted a booth at the annual Democracy XChange conference. Academics, election administrators, community organizers, educators, and several non-partisan civic engagement organizations convened at Ryerson University to explore democracy in Canada. Everyone gathered to envision future elections and recommit to engaging the disengaged through inclusive strategies. Elections Ontario surveyed conference attendees on potential innovations to Ontario's elections, and our public education strategies. The booth garnered a lot of attention and blue sky brainstorming from the 400 conference attendees.  
OHASSTA-AESHO Conference – November 2018
The Outreach team was at the annual Ontario History and Social Sciences Teacher's Association OHASSTA-AESHO conference this week to drive engagement by showcasing our educational resources with teachers, consultants, and other educational stakeholders.
There was high degree of interest on our ORFV  (Ontario Register of Future Voters) followed by multiple requests for school presentations. There were teachers mostly from Ontario, however, the conference sees representation from all across Canada, as well as the United States. OHASSTA provided a rare opportunity to share ideas and tools with educators, other EMBs (electoral management bodies) in attendance, as well as public education professionals.
International Day of Democracy - September 2018
Democracy matters.

And so do you - because it only works when we all work together. 
So, have a conversation, express your opinion, listen, vote, agree to disagree, be critical, learn.
These things build our future.
Every little action works towards something bigger.
And every one of us has a say in how we move forward. 
International Day of Democracy is a United Nations initiative that takes place every year on September 15 to raise awareness of democratic values and principles. The theme for 2018 is Democracy under Strain: Solutions for a Changing World. Find out more on the United Nations website.
This year, we want to know why #DemocracyMatters to you. Share a photo or message on social media with #DemocracyMatters telling us why you think democracy is important!
Youth Lead Democracy Awards 
On September 14, the Elections Ontario Outreach Team co-hosted the first inaugural "Youth Lead Democracy Awards" in observance of the United Nations International Day of Democracy. The International Day of Democracy was launched in 2008 by the United Nations General Assembly to raise awareness of democratic values and principles.
Elections Ontario held the in awards partnership with Ryerson University's Democratic Engagement Exchange and honoured young democracy leaders who volunteered to promote the June 7th provincial election in a nonpartisan capacity. Elections Ontario's goal was to first, recognize and award the 85 attendees for their civic engagement work and second, to build on the youth's capacity to rise as civic leaders in their communities.

The youngest of Elections Ontario's honourees was a 12 year old community leader named Aryan from YMCA Youth Leadership Development Program. Aryan delivered the keynote speech titled, "You have a voice, use it!" Aryan embodied all of the talent, commitment, and promise within the crowd that evening.

Subscribe to our outreach newsletter